Simple document management
A fully integrated document management system allows you to create, share and save securely online via Mac or PC with no need for local storage or local caching thereby keeping your documents safe and private at all times
Flexible tools for document editing
Store images, documents or audio with Meddbase's intuitive document management system with no need for third party software in the knowledge that your documents will be accessible quickly and on any device.
Do you have multiple staff working on documents? With Meddbase, document management comes with enterprise level document features. Check-out documents for editing on the go, or open read-only versions for printing and review.
A complete audit of access, edits and deletions is stored along with the ability to track changes in versions.
Microsoft® Office integration
As well as using the inbuilt Meddbase document editor, users can create their own templates using Microsoft® Word and synchronise your Microsoft® Office based documents using the popular Microsoft® Office Upload Centre toolkit. Meddbase will automatically create and populate your documents with relevant data. No need to re-upload – Meddbase will automatically synchronise your saved changes as you go. And when you're done, no trace is left on your local hard drive giving you piece of mind that your data is secure
Attachments
All documentation, such as images, files and letters can be attached to the patient record whatever their format (i.e. PDF, JPEG, TIF, Excel, Word etc.) and can be viewed or sorted according to date and type. Additional viewing types can also be specified. Handwritten notes can be imported and attached to the patient record. For more information about data imports go to Optional Features> Data Imports (and then on the data imports page it should link to Microstat) In the case of paper imports, the location of the original paper file or other paper-based documents can also be specified. Meddbase has a built-in word processor which can be used for a number of actions. Doctors and Admin Staff can open templates or create blank documents and type notes directly into Meddbase which are then attached to the patient record. Information regarding the patient, such as weight, height, etc. can be extracted from the patient file and automatically added to the templates to help speed the process. Words or phrases from the notes can later be searched against.
Document templates
Meddbase has a built-in template manager used for a range of documentation. New or existing templates can be added or modified using text and graphical images. Items such as Appointment Confirmations or Invoices can be built using a template of your choice. Email notification can also be sent automatically using a template. Meddbase can also send templates and text directly into Microsoft Word meaning you can use Microsoft Word to create new letters from template. When the document is finished with, Meddbase will automatically save the Microsoft Word document and attach it directly back to the patient record.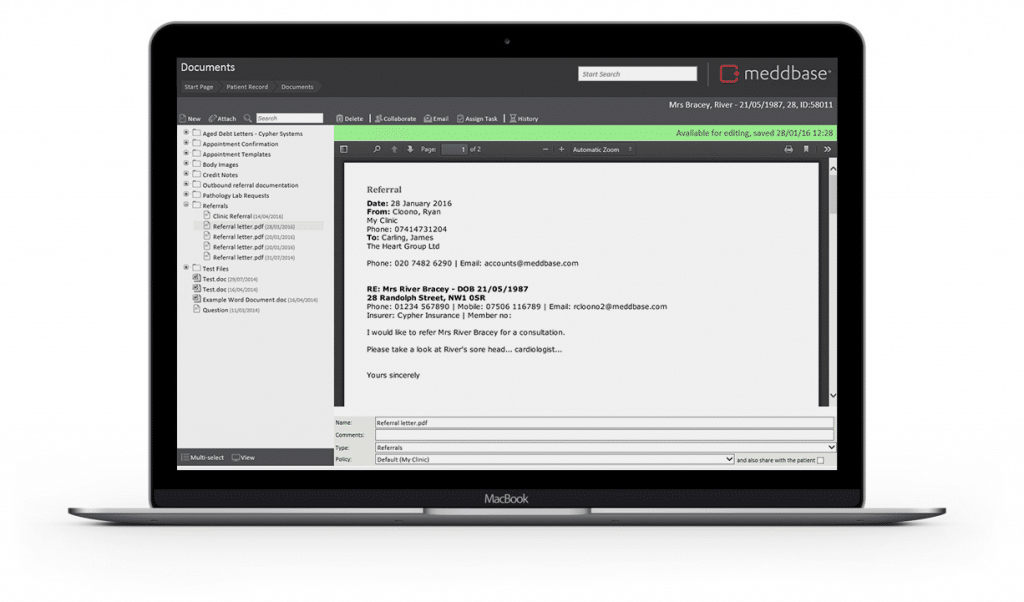 Document manager
A secure document management system is supplied with Meddbase. The document management system attaches and displays all files and documents located within the electronic patient record. The preview windows will extract and display written content from Microsoft Office Word allowing you to quickly view the content of the document without having to actually open it. If you then wish to view in full or edit the document, it can be opened directly from Meddbase and saved directly back into Meddbase without the need for downloads or temporarily downloaded documents. This method is unique to Meddbase and ensures that no patient files are located on the local PC, thus offering complete security for the patient file and attached documents. Images attached to the patient file, such as scanned files or X-rays, can be viewed in thumbnail form or opened into full high res. via the document management system. Additional notes can be attached to the image for future reference and searching. All documents sent to and from the Meddbase server are secured using the highest level of encryption.
Secure transfer
Any document can be sent via email or a chat client (such as MSN or Skype) using the secure Meddbase document manager. Rather than sending the unencrypted file over email, which is an insecure channel of communication, Meddbase will send a file linking the recipient back to the Meddbase server for further authentication. The recipient will then be challenged for a password by the Meddbase server which must be entered correctly. The recipient's access to the file is governed by the practice or doctor's chosen access levels – i.e. such as read / write access.
Document and medical search
Meddbase has a built-in comprehensive search facility. Individual electronic patient records can be searched across all medical related fields and a detailed key word search can be carried out across all attached document note fields and Microsoft Office Word files. An advanced search can also be setup to cross-reference multiple patient files with specific medical search criteria and search for key words contained in attached note fields and / or Microsoft Office Word documents. For example a search or report can be setup to cross reference all patients over 40 years of age with diastolic BP higher than 95mm Hg working for a specific company with keyword 'heart' in attached Microsoft Office Word documents or consultation notes. The search can then be setup to report and alert the clinic if these criteria are met at a later date.