Comprehensive PACS Interface
Comprehensive and integrated medical billing solutions allowing you to automatically capture and bill for all parts of the imaging process be it to private, insured or corporate patients. Using the in-built fee split module, Meddbase can automatically pass fees back to anyone involved in the process, from a nurse, to a hospital or consultant allowing you to capture all costs in real time and pass on fees where applicable
Ability to capture incoming imaging requests electronically from other specialists or GPs working within the Meddbase software framework
Integrated patient scheduling, which captures the referring clinician, will pass bookings and automatically generate work lists. Once the reporting process is complete, notifications are generated back to the referrer for review
A completely integrated medical record houses details of appointments and attendance along with all images captured and any procedures carried out. All documentation, GP referral letters and general correspondence are attached and integrated into the Meddbase EMR document management system
The Meddbase RIS PACS platform is an integrated Medical Imaging Software Suite that has been specifically designed around the unique requirements and work flows of Radiology Clinics and Imaging Centres wishing to run RIS PACS software, and the viewing and managing of their DICOM images.
Meddbase takes into consideration the complexities around the workflow as the patient moves from reception to the radiographer, to radiologist, and as radiology results are delivered back from the imaging centre to the referring specialists or GP.
All parts of this process and work flow are tracked within Meddbase giving a complete overview to the clinic at any part of the journey. This process of tracking the workflow stages electronically also offers better accuracy which is required when dealing with the relatively high number of staff that are engaged in a typical patient encounter.
Integrated seamlessly into the Visbion I-PACS solution, the Meddbase Imaging Software Suite offers a complete solution to managing any imaging centre or radiology department. The Meddbase RIS PACS software offers many benefits including: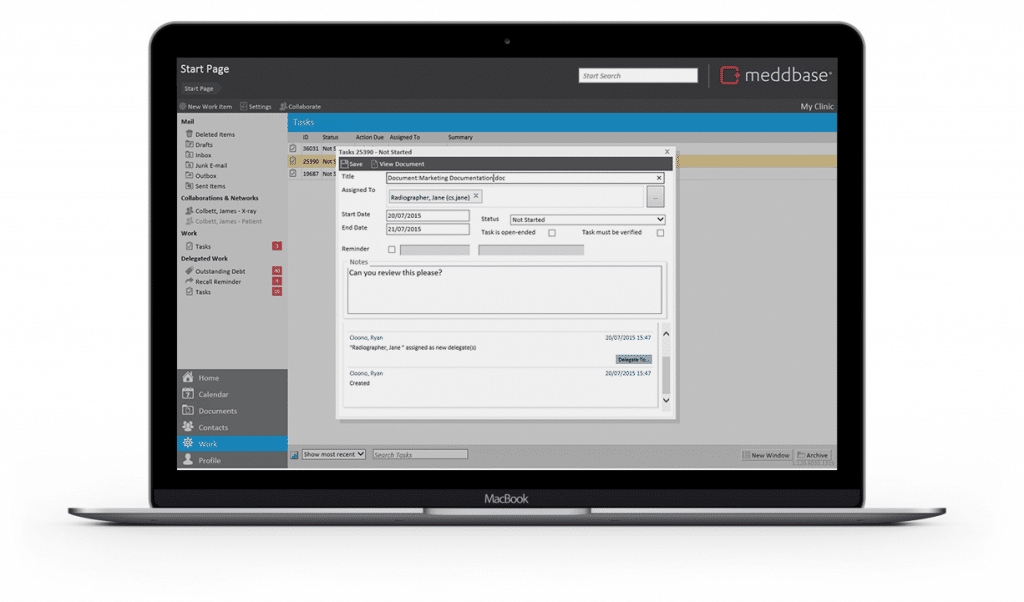 Joining up the process
Many other solutions would require three separate software applications to archive this process and run the image centre. These would include a patient and business management application, a RIS (Radiology information system) and a PACS (Picture Archiving and Communications System). Furthermore this requires you to manage separate applications and implement bespoke workflows around them in order to cover any disjointed parts of the process.
Integration
Meddbase believes the process should be covered by one seamlessly integrated software solution which offers you one place to access and manage all parts of your business, data and work flow capture which ultimately allows you to offers better patient care and business productivity.